Welcome to
Unleashing Social Change Podcast
Whether you are experienced at being a change maker, or just starting out on this amazing journey, you won't want to miss a single episode!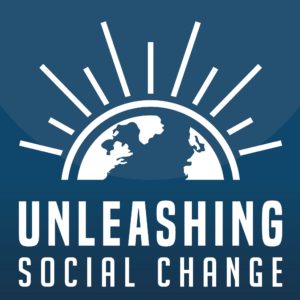 Unleashing Social Change Podcast has a featured episode for you this week! High Tech High Unboxed, hosted by  Alec Patton. In this Episode Stacey interviews Brandi. Stacey Caillier talks to Dr. Brandi Hinnant-Crawford about what Improvement Science looks like when...
read more
Sign up for our newsletter and never miss an episode!
Becky Margiotta is the author of #1 bestselling book, Impact with Integrity: Repairing the World Without Breaking Yourself, cofounder and owner of The Billions Institute, LLC, and the host of the Unleashing Social Change Podcast.
She has trained thousands of people the world over on how to design and lead large-scale social change.
Margiotta directed the 100,000 Homes Campaign for Community Solutions, which mobilized 186 cities to permanently house more than one hundred thousand people who had previously been living on their streets. Her work has been profiled on 60 Minutes, NPR, the New York Times, the Washington Post, the Stanford Social Innovation Review, and the Harvard Business Review. A graduate of West Point, she also served for nine years as an officer in the US Army, both in Special Operations and Special Mission Units. She earned a master's degree in organizational change management from The New School University and has received a White House Champion of Change award, the Schwab Foundation's Social Entrepreneur of the Year award, and the National Conference on Citizenship's HOOAH award. She lives in Claremont, California, with her wife and their two kids. 
Have feedback you'd like to share? Send us a message!