Introducing……
Unleashing Social Change Podcast
Whether you are experienced at being a change maker, or just starting out on this amazing journey, you won't want to miss a single episode!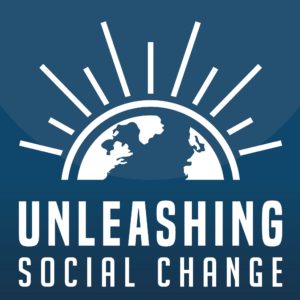 For over 30 years, Tema Okun has devoted her life to dismantling racism and oppression of all forms. In this episode, Tema discusses her own evolution as an anti-racist white person and some of the hard-earned lessons she's learned along the way. As she mentions in...
read more
Sign up for our newsletter and never miss an episode!
Sign up for our newsletter and never miss an episode!
Becky inspires and supports leaders in the social sector to step all the way into what they're here to do on this planet. And it's always bigger than they thought. In 2015, she created the Skid Row School to train foundation and nonprofit executives how to effectively design and run large-scale change initiatives. Prior to that, she created and led the 100,000 Homes Campaign that mobilized 186 cities to house 105,000 people off their streets in just four years. Becky is a graduate of West Point, the New School, and the Leadership and Transformation Program at the Foundation for Conscious Living. 
Have feedback you'd like to share? Send us a message!