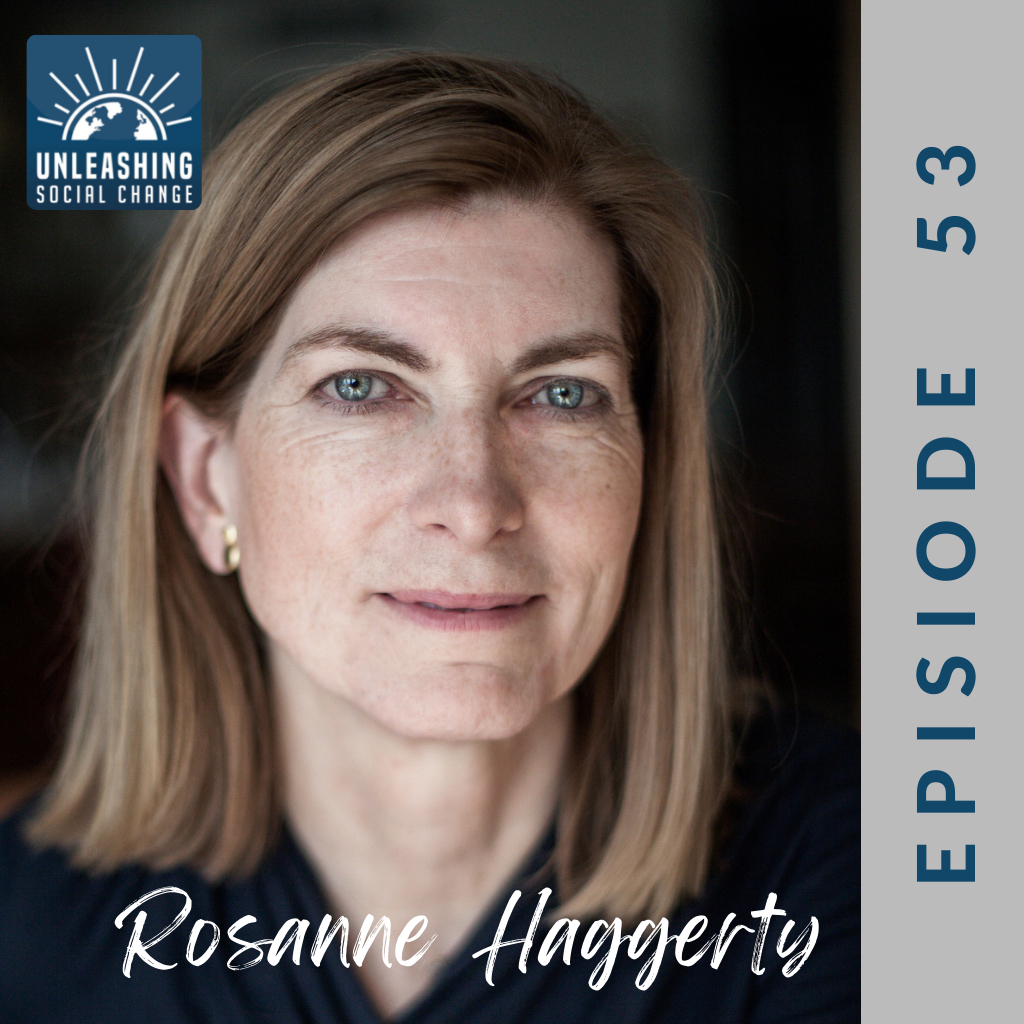 In this episode, you'll meet Rosanne Haggerty, winner of the 2001 MacArthur "Genius Award." Having worked for her for 11 years I can say with no doubt: she really is a genius, although she'd never tell you that herself. Super humble and one of the most relentless leaders I've ever known, Rosanne's work speaks for itself. 
Last year the organization she founded, Community Solutions, was awarded the prestigious $100 & Change grant from the MacArthur Foundation, a global competition for a $100 million to fund a single proposal that promises "real and measurable progress in solving a critical problem of our time." I am so confident Rosanne and her team will deliver on this in spades. 
Back in 2003, when Rosanne hired me to reduce street homelessness in two-thirds over three years in parts of Manhattan, NYC, all I knew was that I wanted to throw myself into work where I felt zero ambivalence. Rosanne took me under her wings and taught me that there's no such thing as a problem that can't be solved. Why she hired a former Army officer to lead an effort to tackle street homelessness is a mystery that she attempts to answer in this episode, and her answer sheds light on her knack for disrupting business as usual. 
Everett Rogers estimates 2.5% of the population are innovators for any given area. Rosanne is one of those rare 2.5% who cannot help but generate fresh insights into entrenched problems. This leader was put on the planet to shake things up! 
In this episode, you'll hear us talk about our time working together on the 100,000 Homes campaign, the challenges we faced, and the power of active listening. You'll also hear some of the behind-the-scenes stories from my book, Impact with Integrity: Repair the World Without Breaking Yourself. 
As always, enjoy the show and please share far and wide. 
Show Notes:
Thinking outside the box when it comes to hiring.

Mobilizing accountability in complex problems.

Homelessness is the collective failure of other systems and structures.

Stepping up for the people who need it.

Why solving short-term crises doesn't work and where we need to start. 

The challenge is not sinister or mysterious – it's solvable. 

Learning how to engage people in a way that's not overwhelming for everyone. 

Matchmaking genius and what it can do for an organization.

Allowing space for what needs to come next. 

Finding the balance between keeping an organization afloat while keeping it equitable and innovative. 
Pre-order Becky's Book Impact With Integrity: Repair the World Without Breaking Yourself